DNA Bisulfite Conversion
Bisulfite conversion is a technique in which cytosine is converted to uracil using sodium bisulfite, while 5-methylcytosine (5-mC) remains intact. Bisulfite and sodium bisulfite-based methods are common approaches used to study DNA methylation and help in preparing genomic DNA for gene-specific DNA methylation analysis. Bisulfite conversion is often followed by downstream applications such as PCR or sequencing.

Unmethylated cytosine residues are deaminated to uracil and methylated cytosine (5-mC) residues remain unaffected, enabling PCR amplification to recognize uracils as thymines and 5-mC or 5-hmC as cytosines. This allows researchers to differentiate between methylated and unmethylated cytosine residues, offering single-nucleotide resolution information about the methylated areas of DNA. Complete conversion is necessary for a successful DNA methylation study, along with reducing the amount of DNA degradation that will occur as a result of the typically harsh chemical reaction.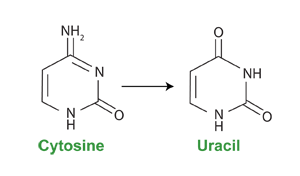 Popular downstream methods for analyzing DNA methylation on a gene-specific basis following bisulfite treatment include bisulfite sequencing, methylation specific PCR (MS-PCR), and methylation-based microarrays. Considering your downstream application can help in determining which bisulfite conversion method is ideal, especially due to the variation in post-conversion fragment size. The BisulFlash DNA Modification Kit is geared specifically toward real-time MSP whereas the best-selling Methylamp DNA Modification Kit is designed to be compatible with Illumina workflows and next-generation sequencing (NGS). If a quicker and easier bisulfite conversion alternative is desired prior to sequencing, the BisulFlash DNA Bisulfite Conversion Easy Kit can be completed in just 60 minutes and uses a liquid bisulfite conversion reagent for convenience.
Beginning with high quality DNA is critical, especially because the acidic nature of the conversion process will fragment the DNA. For samples containing low amounts of DNA, the Methylamp Whole Cell Bisulfite Modification Kit is recommended, as it can directly convert from cells, tissues, blood, and other starting materials. When handling large scale bisulfite conversion experiments, high-throughput options are critical in order to save time and reduce cost. In this case, the BisulFlash DNA Bisulfite Conversion Mag-96 Kit is specifically streamlined for high-throughput and uses a magnetic bead-based 96-well format. For a detailed comparison of bisulfite conversion kits, see the table below.
More Details
More Details
More Details
More Details
More Details
Codename
"Classic"
"Easy"
"Fast"
"Direct"
"High Throughput"
Purpose
Chemical-based DNA bisulfite conversion
Simplified heat-based DNA bisulfite conversion
Fast heat-based DNA bisulfite conversion
Directly convert from cells, tissues, saliva, urine, or blood
Magnetic bead-based 96-well format bisulfite conversion
Key Points

Illumina workflow compatible
Most robust and reliable
Ideal for bisulfite sequencing, NGS, and various MSP

Illumina workflow compatible
Denaturation by thermalcycler
Liquid bisulfite conversion reagent

Extremely fast
Ideal for real-time MSP
Optional sequencing protocol

Eliminates separate DNA isolation step
Ideal for samples containing low quantities of DNA

Illumina workflow compatible
Streamlined high throughput process
Designed for large scale or automated conversions

Starting Material
DNA
DNA
DNA
cells, tissue, blood
DNA
Lowest Input Amount
50 pg
100 pg
200 pg
100 cells, 1 µl blood
< 10 ng
Total Protocol Time
< 2 hours
1 hour
30 minutes
< 3 hours
< 1 hour 20 min
Elution Volume
8-20 µl
8-20 µl
10-20 µl
8-20 µl
20 µl
Conversion Efficiency
99.9%
99.9%
99.9%
99.9%
99.9%
Desulfonation/Clean-Up
Recovery
>75%
>75%
>75%
>85%
>85%
Post-Conversion DNA Fragment Size
200-2000 bp; Avg. Peak of 800 bp
200-2000 bp; Avg. Peak of 800 bp
100-400 bp; Avg. Peak of 250 bp
200-2000 bp; Avg. Peak of 800 bp
200-2000 bp; Avg. Peak of 800 bp
Vessel Format
Spin Column
Spin Column
Spin Column
Spin Column
96-Well Plate


| | |
| --- | --- |
| Result Pages: 1 | Displaying 1 to 11 (of 11 products) |
| | | | | |
| --- | --- | --- | --- | --- |
| Image | Description | Cat. No. | Size | Price |
| | |
| --- | --- |
| Result Pages: 1 | Displaying 1 to 11 (of 11 products) |