Chromatin Remodeling Antibodies
Chromatin remodeling refers to structural changes in chromatin that transform chromatin from a tight condensed conformation to a looser more permissive conformation. This allows access of transcription factors and other gene regulatory proteins to the DNA, leading to gene activation. Such changes are predominantly mediated by histone modifying enzymes, which catalyze the addition or removal of post-translational modifications to histones, and by several multiprotein chromatin remodeling complexes, which can alter nucleosome positioning. Besides its key role in regulating transcription and gene expression, chromatin remodeling is crucial for DNA replication and repair, as well as other cellular processes.

There are several families of chromatin remodelers in eukaryotes, including the SWI/SNF, ISWI, CHD, and INO80 family of chromatin remodelers. The main feature that these chromatin remodeling families share is the presence of a conserved ATPase domain for DNA binding and ATP-hydrolysis. Some of these families also contain epigenetic reader domains, that allow them to bind acetylated or methylated histones, or additional domains that allow them to bind actin proteins.

What makes buying antibodies from EpiGentek different?
At EpiGentek, we supply a collection of over 20,000 individual high-quality antibodies for our customers to ensure that our research customers find exactly what they need for their studies. In addition, we offer a variety of other benefits to help our customers in terms of affordability, convenience, and reliability. See why working with EpiGentek for your antibodies is the right choice:
No Shipping & Handling Costs: we've waived all shipping and handling fees on our antibodies and antibody panel packs when selecting 2-day shipping (trial sizes not applicable).
100% Application Guarantee: your purchased antibodies are covered for 6-months past the date of purchase.
Multiple Conjugates: we carry biotin, FITC and HRP conjugates for nearly all targets.
Trial Sizes Available: 10 & 20 µg options available on over 5,000 antibodies in our catalog.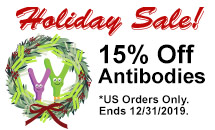 | | | | | |
| --- | --- | --- | --- | --- |
| Image | Description | Cat. No. | Size | Price |