Primary Antibodies
Primary antibodies are reagents that bind directly to a specific target antigen of interest. They are useful for investigating biomarkers for diseases including cancer, Alzheimer's, and Parkinson's. Primary antibodies can directly bind to specific antigens such as peptides, proteins, or other molecules. Various modifications such as DNA methylation, histone acetylation, and phosphorylation can also be studied by using primary antibodies.

What makes buying antibodies from EpiGentek different?
At EpiGentek, we supply a collection of over 20,000 individual high-quality antibodies for our customers to ensure that our research customers find exactly what they need for their studies. In addition, we offer a variety of other benefits to help our customers in terms of affordability, convenience, and reliability. See why working with EpiGentek for your antibodies is the right choice:
No Shipping & Handling Costs: we've waived all shipping and handling fees on our antibodies and antibody panel packs when selecting 2-day shipping (trial sizes not applicable).
100% Application Guarantee: your purchased antibodies are covered for 6-months past the date of purchase.
Multiple Conjugates: we carry biotin, FITC and HRP conjugates for nearly all targets.
Trial Sizes Available: 10 & 20 µg options available on over 5,000 antibodies in our catalog.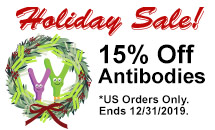 DNA Methylation Antibodies
EpiGentek's well-characterized and highly validated DNA methylation antibodies and DNA demethylation antibodies may help to increase researchers' understanding of DNA methylation and its involvement in diseases as well as cell cycle regulation and embryonic development. DNA methylation is the most widely studied epigenetic mechanism that regulates gene expression, thereby affecting cell function, while aberrant DNA methylation is prevalent in many diseases, particularly cancer.
Histone Modification Antibodies
Histone modification antibodies are used to investigate epigenetic modifications to histones such as acetylation, methylation, and phosphorylation. Histone methylation is associated with transcriptional repression or activation via the transfer of methyl groups to lysine or arginine residues of histone proteins and is crucial to studying epigenetic gene regulation with the use of histone methylation antibodies. Histone methyltransferases (HMTs) are responsible for catalyzing this process. Similarly, histone acetylation antibodies can be used to study chromatin remodeling and epigenetic gene regulation that occurs as a result of histone acetylation. This histone modification is defined as the addition of an acetyl group to lysine residues of histone proteins by enzymes known as histone acetyltransferases (HATs), and is associated with gene activation and expression.
RNA Processing & Modification Antibodies
RNA processing and modifications to RNA are crucial to numerous cell functions and give insight into a multitude of biological processes that are influenced by RNA activities, such as RNA interference. RNA interference (RNAi) is a gene-regulating process in which genes are silenced by RNA molecules such as shRNA, siRNA, and miRNA, usually destroying mRNA molecules and lowering protein expression. RNAi and gene silencing antibodies target the proteins involved in the various steps of gene silencing as part of the RNA interface. Once RNA is transcribed from DNA, it can undergo a number of processing events, including splicing, capping and additional modifications before it carries out its final function in the cell. Various RNA modifications such as N6-methyladenosine (m6A), the most abundant mRNA modification, are of interest to researchers investigating the epigenetic modifications' consequences and especially how they contribute to the development of diseases such as cancer.
Chromatin & Transcription Antibodies
Antibodies that target proteins associated with chromatin and transcription such as histone deacetylases (HDACs), histone acetyltransferases (HATs), histone methyltransferases (HMTs), and heterochromatin protein 1 (HP1) are important to understanding the epigenetic regulation of chromatin structure and its function. Chromatin is involved in crucial functions of the cell including division, replication, and gene expression.
Cell Structure & Function Antibodies
Cell structure & function antibodies are used for investigating the structure and function of the cell, linked to DNA damage & repair, cell cycle, apoptosis, cellular structure, and trafficking. These antibodies can be used for cell structure research to connect structural features of the cell, such as the cytoskeleton, including microtubules and microfilament, to their function.
Signal Transduction Antibodies
Signal transduction, or cell signaling, is the process by which various signals are transmitted throughout the cell in a cascading series of extracellular and intracellular molecular events involving lipids, proteins, and ions. Often it involves a signal from a secreted growth factor, hormone or other extracellular signaling molecule with binding to receptors at the cell surface, including receptor tyrosine kinases and G-protein coupled receptors, which then transduce the signal intracellularly. A wide range of antibodies are involved in signal transduction, such as cell surface receptor and kinase antibodies, intracellular kinase and adaptor protein antibodies, phosphatase antibodies, and secreted growth factor antibodies. Signaling pathways and their fluid dynamic processes can be studied by researchers aiming to learn more about their far-reaching morphological effects and especially their influence on the regulation of gene expression. Signal transduction antibodies can also offer insight into various pathways and their role in the development of diseases, for example, Alzheimer's, lupus, cancer and rheumatoid arthritis.
Metabolism Antibodies
Metabolism is the chemical process catalyzed by certain enzymes which enables organisms to convert various substances to energy in order to sustain life. Metabolism antibodies are crucial for studying glucose, lipid, protein, and nucleotide metabolism.
Immunology & Inflammation Antibodies
Immunology and inflammation antibodies are a broad set of antibodies ideal for investigating the complex immune system, including cell marker and receptor antibodies, cytokine antibodies, and other immunology antibodies.
Other Primary Antibodies
Antibodies used for various applications, including the recently discovered gene editing and genetic engineering system known as the CRISPR/Cas9 system. The CRISPR (Clustered Regularly Interspaced Short Palindromic Repeats) and Cas9 (CRISPR associated system or CRISPR associated protein 9 nuclease) system delivers RNA-guided nuclease (Cas9) and specific guide RNAs (gRNA) into a cell.

| | | | | |
| --- | --- | --- | --- | --- |
| Image | Description | Cat. No. | Size | Price |