Protein Metabolism Antibodies
Protein metabolism involves the synthesis of amino acids and proteins and the breakdown of proteins. Dietary proteins are an essential source of amino acids necessary for protein synthesis, as the body is not able to synthesize all twenty amino acids. The breakdown of dietary proteins into amino acids begins in the stomach with the secretion of pepsin and hydrochloric acid, which promote protein denaturation and breakdown into smaller polypeptides and individual amino acids. Other enzymes secreted by the pancreas, like trypsin and chymotrypsin also participate in protein breakdown. The amino acids can then be transported into cells, and used to synthesize protein, or can be further broken down to remove the amino group by deamination. During deamination, the amino group gets broken down into ammonia, which is excreted, and the carbon skeleton, which has several fates. The carbon skeleton of the ketogenic amino acids produce acetyl-CoA and other derivatives, which can enter the citric acid cycle, or produce fatty acids; while the glucogenic amino acids produce pyruvate and other carbon intermediates which can be converted to glucose, or converted to fatty acids or glycogen for storage.

Bacteria and plants can synthesize all twenty amino acids, while humans cannot synthesize all twenty. Nine amino acids cannot be synthesized by humans and are called the essential amino acids, which should be obtained from dietary sources. The other eleven amino acids can be synthesized by the body and are called the non-essential amino acids. Their synthesis is catalyzed by six different routes, depending on their precursor. The precursors include oxaloacetate, PEP, alpha-ketoglutarate, pyruvate, 3-phosphoglycerate, and ribose-5P, and some amino acids after synthesized serve as precursors for others. The carbon skeletons necessary to synthesize proteins derive from intermediates of glycolysis, the citric acid cycle and the pentose phosphate pathway. A source of nitrogen is necessary for amino acid synthesis, which is contributed by glutamate and glutamine. The alpha-amino group from glutamate is transferred to to an alpha-ketoacid acceptor in a transamination reaction.

What makes buying antibodies from EpiGentek different?
At EpiGentek, we supply a collection of over 20,000 individual high-quality antibodies for our customers to ensure that our research customers find exactly what they need for their studies. In addition, we offer a variety of other benefits to help our customers in terms of affordability, convenience, and reliability. See why working with EpiGentek for your antibodies is the right choice:
No Shipping & Handling Costs: we've waived all shipping and handling fees on our antibodies and antibody panel packs when selecting 2-day shipping (trial sizes not applicable).
100% Application Guarantee: your purchased antibodies are covered for 6-months past the date of purchase.
Multiple Conjugates: we carry biotin, FITC and HRP conjugates for nearly all targets.
Trial Sizes Available: 10 & 20 µg options available on over 5,000 antibodies in our catalog.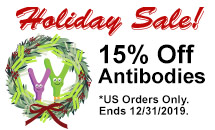 | | | | | |
| --- | --- | --- | --- | --- |
| Image | Description | Cat. No. | Size | Price |