Phosphatase Antibodies
Phosphorylation is a major post-translational modification to proteins and controls cell signaling and induction of cell proliferation, differentiation, cell death and other biological processes. Phosphatases reverse phosphorylation by removing the phosphate group added by kinases mostly to serine, threonine or tyrosine residues in a protein. Thus phosphatases have a critical role in regulating cell signaling, as generally reversal of the phosphorylation indicates a switching off of the signal. Uncontrolled or constitutive signaling by cell surface receptors may lead to increased proliferation, among other outcomes, and could lead to the pathogenesis of cancer and other diseases. Therefore, after phosphorylation and protein activation by kinases, the signal must return to the resting or inactivated state through dephosphorylation catalyzed by phosphatases.

Two important phosphatases include the serine/threonine protein phosphatase 2A (PP2A) and phosphatase and tensin homolog (PTEN). PP2A is a key phosphatase as it catalyzes dephosphorylation of many proteins, but also dephosphorylates the main protein kinases responsible for activation of major signaling pathways, including AKT, ERK MAP kinase and Protein kinase C (PKC) family members. PTEN dephosphorylates proteins, as well as the phospholipid phosphatidylinositol (3,4,5)-trisphosphate (PIP3), which induces inhibition of signaling by AKT, a critical pathway involved in cellular growth and proliferation. PTEN is a tumor suppressor frequently mutated and involved in the pathogenesis and progression of several cancers.

What makes buying antibodies from EpiGentek different?
At EpiGentek, we supply a collection of over 20,000 individual high-quality antibodies for our customers to ensure that our research customers find exactly what they need for their studies. In addition, we offer a variety of other benefits to help our customers in terms of affordability, convenience, and reliability. See why working with EpiGentek for your antibodies is the right choice:
No Shipping & Handling Costs: we've waived all shipping and handling fees on our antibodies and antibody panel packs when selecting 2-day shipping (trial sizes not applicable).
100% Application Guarantee: your purchased antibodies are covered for 6-months past the date of purchase.
Multiple Conjugates: we carry biotin, FITC and HRP conjugates for nearly all targets.
Trial Sizes Available: 10 & 20 µg options available on over 5,000 antibodies in our catalog.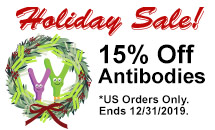 | | | | | |
| --- | --- | --- | --- | --- |
| Image | Description | Cat. No. | Size | Price |