Cell Cycle Antibodies
The cell cycle constitutes a series of stages that allow a cell to double its cellular components and divide into two daughter cells. Cell cycle and division are crucial for development of a multicellular organism, as well as for cell-renewal in regenerating tissue. Actively proliferating cells undergo four phases during cell division or mitosis.

The phases of the cell cycle include G1 phase, S-phase, G2 phase and M phase. During the G1 phase, or the gap or growth phase, the cell intensifies transcription and protein synthesis to ensure availability of proteins necessary for DNA replication, and grows in size. During S-phase or the synthesis phase, DNA replication occurs and the DNA amount is doubled. During G2 phase, the cell contains double the amount of DNA and rapid growth and protein synthesis occurs, in order to increase organelle number in preparation for cell division. The G1 phase, S-phase, and G2 phase altogether constitute the interphase period, in which the cell prepares itself for the mitosis or cell division phase. During M or mitosis phase, cellular division into two daughter cells takes place. This process involves 2 stages, karyokinesis or mitosis, in which the cells' nucleus divides; and cytokinesis, in which the cells cytoplasm divides.

During the cell cycle, there are several checkpoints, to ensure that the cell has completed a phase successfully prior to entering the next phase. The G1 checkpoint or restriction point occurs towards the end of the G1 phase, and the cell checks for DNA damage to ensure DNA integrity and also for proper size before proceeding to DNA replication. During the G2 checkpoint, the cell makes sure that the DNA is replicated accurately and that no DNA damage is present, prior to the mitotic phase. During M phase, the mitotic spindle checkpoint ensures that the chromosomes are well attached to the spindle prior to division. Cyclins and cyclin-dependent kinases are the main mediators of cell cycle progression, and they are expressed specifically during certain phases and control entry and exit from the particular phases.

What makes buying antibodies from EpiGentek different?
At EpiGentek, we supply a collection of over 20,000 individual high-quality antibodies for our customers to ensure that our research customers find exactly what they need for their studies. In addition, we offer a variety of other benefits to help our customers in terms of affordability, convenience, and reliability. See why working with EpiGentek for your antibodies is the right choice:
No Shipping & Handling Costs: we've waived all shipping and handling fees on our antibodies and antibody panel packs when selecting 2-day shipping (trial sizes not applicable).
100% Application Guarantee: your purchased antibodies are covered for 6-months past the date of purchase.
Multiple Conjugates: we carry biotin, FITC and HRP conjugates for nearly all targets.
Trial Sizes Available: 10 & 20 µg options available on over 5,000 antibodies in our catalog.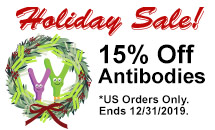 | | | | | |
| --- | --- | --- | --- | --- |
| Image | Description | Cat. No. | Size | Price |