Cellular Structure Antibodies
Structural proteins are involved in maintenance of cellular structures and are crucial in cell polarity, cell to cell communication, movement and migration, cell division and other functions requiring cell malleability. Structural differences among cell types are crucial for cells to perform their specialized functional roles. Structural proteins are fibrous proteins, and include keratins, actin, collagens, and tubulins among others.

The cytoskeletal structure of the cell or cytoskeleton is composed of three types of filaments, microfilaments, intermediate filaments and microtubules. Microfilaments are composed of actin polymers that form thin, long fibers, and they contribute to muscular cell contraction and cellular locomotion. Intermediate filaments can be formed from diverse structural proteins, including keratins, lamins, and vimentins. Intermediate filaments composed of lamins are involved in maintenance of the nuclear envelope, while keratins constitute protective layers, such as skin, hair and nails. Microtubules are hollow cylinders formed from alpha-tubulin and beta-tubulin subunits, and they participate in cellular activities requiring motion, such as organelle transport and chromosome segregation during cell division. Cadherins, catenins, claudins, and connexins, as well as other structural proteins participate in formation of cellular junctions, including gap junctions, tight junctions, adherens junctions, and desmosomes, which are essential for cell to cell attachment and communication. Motor proteins, such as myosin, kinesins, and dyneins facilitate the movement of organelles along the cells cytoskeletal structure.

What makes buying antibodies from EpiGentek different?
At EpiGentek, we supply a collection of over 20,000 individual high-quality antibodies for our customers to ensure that our research customers find exactly what they need for their studies. In addition, we offer a variety of other benefits to help our customers in terms of affordability, convenience, and reliability. See why working with EpiGentek for your antibodies is the right choice:
No Shipping & Handling Costs: we've waived all shipping and handling fees on our antibodies and antibody panel packs when selecting 2-day shipping (trial sizes not applicable).
100% Application Guarantee: your purchased antibodies are covered for 6-months past the date of purchase.
Multiple Conjugates: we carry biotin, FITC and HRP conjugates for nearly all targets.
Trial Sizes Available: 10 & 20 µg options available on over 5,000 antibodies in our catalog.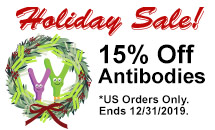 | | | | | |
| --- | --- | --- | --- | --- |
| Image | Description | Cat. No. | Size | Price |