Histone Deacetylation Antibodies
Histone deacetylation, the process by which histone deacetylase (HDAC) catalyzes the removal of the acetyl functional group from histones, can be investigated using HDAC antibodies. Decreased levels of acetylation as a result of HDAC activity has been linked to repression of gene expression due to the condensed state of chromatin, referred to as heterochromatin.

What makes buying antibodies from EpiGentek different?
At EpiGentek, we supply a collection of over 20,000 individual high-quality antibodies for our customers to ensure that our research customers find exactly what they need for their studies. In addition, we offer a variety of other benefits to help our customers in terms of affordability, convenience, and reliability. See why working with EpiGentek for your antibodies is the right choice:
No Shipping & Handling Costs: we've waived all shipping and handling fees on our antibodies and antibody panel packs when selecting 2-day shipping (trial sizes not applicable).
100% Application Guarantee: your purchased antibodies are covered for 6-months past the date of purchase.
Multiple Conjugates: we carry biotin, FITC and HRP conjugates for nearly all targets.
Trial Sizes Available: 10 & 20 µg options available on over 5,000 antibodies in our catalog.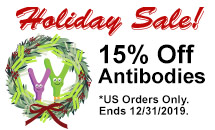 | | |
| --- | --- |
| Result Pages: 1 2 3 [Next >>] | Displaying 1 to 20 (of 54 products) |
| | | | | |
| --- | --- | --- | --- | --- |
| Image | Description | Cat. No. | Size | Price |
| | |
| --- | --- |
| Result Pages: 1 2 3 [Next >>] | Displaying 1 to 20 (of 54 products) |