Other Histone Antibodies
Other histone antibodies can be used to study the core nucleosomal histones, the histones regularly associated with DNA in chromatin, as well as non-canonical histone variants that often can substitute for the core histones under diverse physiological and environmental conditions. The core nucleosomal histones are mostly incorporated into chromatin during DNA replication, while histone variants can be integrated throughout the cell cycle. Adjoining of these histone variants can alter chromatin structure and affect transcription, DNA replication and other biological processes, and can influence embryonic development and cell fate decisions. Some well-known histone variants include H2A.X, H2A.Z and H3.3.

Besides the most widely studied histone modifications, including methylation, acetylation and phosphorylation, histones undergo a number of less known modifications, such as citrullination, O-GlcNAc glycosylation, and ADP-ribosylation. Citrullination involves the deimination of arginine residues, which leads to conversion of arginine to citrulline; while ADP ribosylation involves the addition of ADP-ribose groups on glutamate or arginine residues. O-GlcNAc glycosylation involves adding N-acetylglucosamine (O-GlcNAc) sugar moieties to the amino acid side chains of serine or threonine residues and is catalyzed by O-GlcNAc transferase (OGT). These modifications, as well as the histone modifying enzymes that catalyze these changes can be studied with other histone antibodies.

What makes buying antibodies from EpiGentek different?
At EpiGentek, we supply a collection of over 20,000 individual high-quality antibodies for our customers to ensure that our research customers find exactly what they need for their studies. In addition, we offer a variety of other benefits to help our customers in terms of affordability, convenience, and reliability. See why working with EpiGentek for your antibodies is the right choice:
No Shipping & Handling Costs: we've waived all shipping and handling fees on our antibodies and antibody panel packs when selecting 2-day shipping (trial sizes not applicable).
100% Application Guarantee: your purchased antibodies are covered for 6-months past the date of purchase.
Multiple Conjugates: we carry biotin, FITC and HRP conjugates for nearly all targets.
Trial Sizes Available: 10 & 20 µg options available on over 5,000 antibodies in our catalog.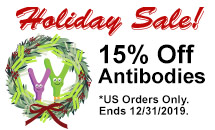 | | | | | |
| --- | --- | --- | --- | --- |
| Image | Description | Cat. No. | Size | Price |