Other Primary Antibodies
Antibodies used for various applications, including the recently discovered gene editing and genetic engineering system known as the CRISPR/Cas9 system. The CRISPR (Clustered Regularly Interspaced Short Palindromic Repeats) and Cas9 (CRISPR associated system or CRISPR associated protein 9 nuclease) system delivers RNA-guided nuclease (Cas9) and specific guide RNAs (gRNA) into a cell.

What makes buying antibodies from EpiGentek different?
At EpiGentek, we supply a collection of over 20,000 individual high-quality antibodies for our customers to ensure that our research customers find exactly what they need for their studies. In addition, we offer a variety of other benefits to help our customers in terms of affordability, convenience, and reliability. See why working with EpiGentek for your antibodies is the right choice:
No Shipping & Handling Costs: we've waived all shipping and handling fees on our antibodies and antibody panel packs when selecting 2-day shipping (trial sizes not applicable).
100% Application Guarantee: your purchased antibodies are covered for 6-months past the date of purchase.
Multiple Conjugates: we carry biotin, FITC and HRP conjugates for nearly all targets.
Trial Sizes Available: 10 & 20 µg options available on over 5,000 antibodies in our catalog.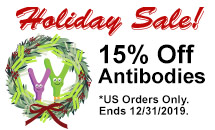 | | | | | |
| --- | --- | --- | --- | --- |
| Image | Description | Cat. No. | Size | Price |