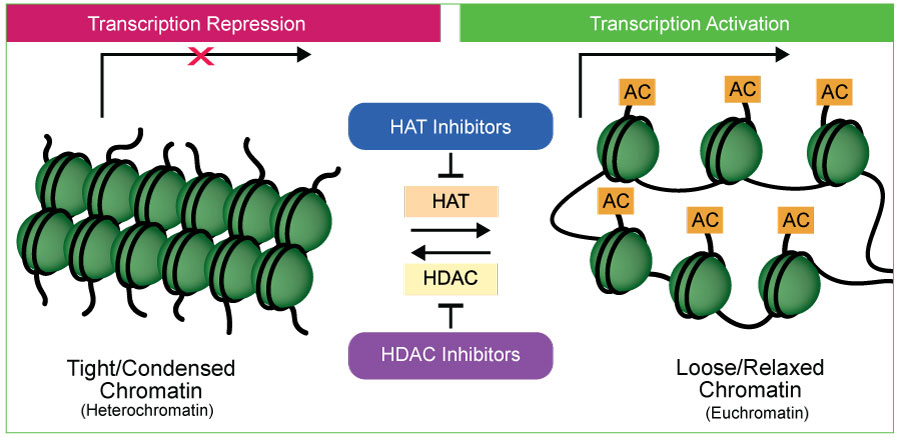 Histonesare the most eminent DNA-interacting proteins. As the primary protein constituent of chromatin, they form complexes with DNA to compact our large genome for efficient nuclear organization. Histones support critical cellular processes, such as transcription, DNA replication, and DNA repair, via diverse post-translational modificationsthat moderate their interactions with DNA and other nuclear proteins. Histone marks come in a variety of chemistries, collectively constituting a so-called "histone code" involved in the epigenetic regulation of chromatin. Covalent modifications to histone tails, including methylation, acetylation, ubiquitination, sumoylation, citrullination, and phosphorylation, are well-correlated with chromatin structure and accessibility, which in turn impact transcriptional activation/silencing.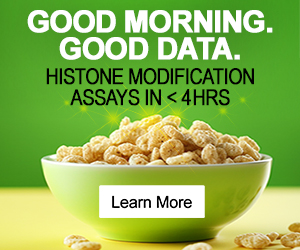 Among these modifications, histone acetylationstands out as a prominent mechanism that can profoundly influence chromatin structure and function. Acetylated histones, like H3K9ac, H3K14ac, and H3K27ac, have been linked to an open chromatin configuration and active gene expression state. The transfer of acetyl groups to histone proteins is catalyzed by enzymes known as histone acetyltransferases (HATs). By adding acetyl groups to histones, HATs loosen the tight packaging of DNA around histones, allowing for easier access by transcriptional machinery. This relaxed chromatin structure promotes gene expression, making HATs crucial regulators of transcription.
HATs are involved in various cellular processes, including embryonic development, differentiation, and cell cycle control. They orchestrate the activation of genes essential for proper growth and development. Histone deacetylases (HDACs), on the other hand, play a counteracting role to HATs. They remove acetyl groups from histones, resulting in a more condensed chromatin structure that restricts access to DNA. This repression of gene expression is crucial for maintaining proper cellular function, regulating cell proliferation, and preventing uncontrolled growth.
Anomalous changes in histone acetylation can lead down the road to assorted pathological conditions, making this modification and its associated modifying enzymes suitable diagnostic, prognostic, and therapeutic tools in the fight against human disease. In fact, HDAC inhibitorsat present constitute the bulk of the epigenetic drug market. Marketed HDAC inhibitors include Novartis's Farydak (panobinostat) for multiple myeloma, Celgene's Istodax (romidepsin) and Merck's Zolinza (vorinostat) for cutaneous T-cell lymphoma, and TopoTarget's Beleodaq (belinostat) for peripheral T-cell lymphoma.
Indeed, the dynamic balance between HAT and HDAC activity is fundamental to cellular health. This balance is frequently disrupted in various disease conditions, leading to aberrant gene expression profiles. A classic example is seen in cancer, where an abnormal increase in HDAC activity or a decrease in HAT activity can silence tumor suppressor genes, promoting unchecked cell proliferation and tumorigenesis. Similarly, neurodegenerative disorders like Alzheimer's disease and Huntington's disease have been linked to changes in histone acetylation, with implications for both disease progression and therapeutic strategies.
Moreover, dysregulated histone acetylation has also been implicated in inflammatory diseases and psychiatric disorders. In these conditions, aberrant gene expression resulting from disrupted HAT and HDAC activities can alter immune responses or neuronal signaling, leading to disease. Thus, the role of histone acetylation in regulating gene expression is critical across a wide spectrum of biological processes and diseases, further underlining the importance of monitoring HAT and HDAC activities.
Advancements in technology have led to the development of high-throughput screens for HAT and HDAC inhibitors, as well as more sophisticated yet easy assays for evaluating their activities. Among these, EpigenTek's EpiQuik™ HAT Activity/Inhibition Assay Kitand Epigenase™ HDAC Activity/Inhibition Direct Assay Kitare leaders in the field. Immunoassay-based strategies, namely, ELISA, offer a quick, convenient, and economical means to screen inhibitors of HDACs and other histone modifying enzymes in a high throughput manner.
Furthermore, novel techniques involving mass spectrometry and next-generation sequencing are now being applied to study histone modifications on a genome-wide scale, shedding light on the intricate patterns of histone acetylation and their effects on global gene expression patterns. Ultimately, by providing a better understanding of the functional roles of histone acetylation and the enzymes involved in this process, these tools and approaches will undoubtedly continue to pave the way for the development of new therapies aimed at correcting the aberrant acetylation patterns found in many diseases.