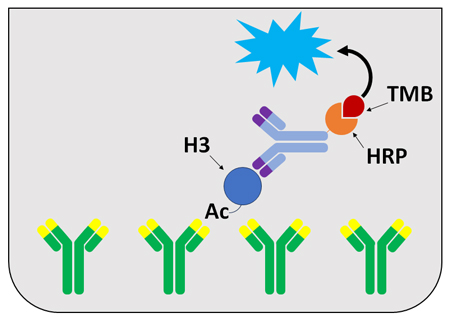 Histone acetylation is a crucial epigenetic modification that plays a pivotal role in regulating gene expression and chromatin dynamics. This process involves the addition of an acetyl group to the lysine residues of histone proteins, leading to a more open chromatin structure, which allows for enhanced transcriptional activity. Histone acetylation is essential for normal human biology, influencing diverse cellular processes such as development, differentiation, and DNA repair. Conversely, dysregulation of histone acetylation has been implicated in various human diseases, including cancer, neurodegenerative disorders, and inflammatory conditions.
In normal human biology, acetylation of histones, including histone H3, plays a fundamental role in orchestrating gene expression patterns during different stages of development and in response to various environmental cues. For example, during embryonic development, specific genes are activated or repressed through histone acetylation to promote the differentiation of various cell types. In human diseases, alterations in histone acetylation patterns are increasingly recognized as important contributors to disease progression. Aberrant histone acetylation can lead to the misregulation of critical genes, resulting in uncontrolled cell growth and proliferation, characteristic of cancer. In addition, dysregulated histone acetylation has been implicated in neurodegenerative diseases, influencing gene expression patterns associated with neuronal survival and plasticity. Furthermore, inflammatory disorders are marked by altered histone acetylation patterns that modulate the expression of pro-inflammatory genes.
Several methods are commonly used to assess histone acetylation levels:
Western Blotting: Western blotting allows researchers to detect and quantify specific acetylated histone proteins using antibodies targeting acetylated lysine residues. Although widely used, Western blotting requires relatively large amounts of sample material and lacks the ability to provide spatial information on histone acetylation patterns.
Chromatin Immunoprecipitation (ChIP): ChIP enables the enrichment of acetylated histone regions in the genome, followed by quantitative PCR or next-generation sequencing to identify associated genes. While ChIP offers insights into histone acetylation at specific genomic loci, it is labor-intensive, time-consuming, and requires a significant number of cells.
Mass Spectrometry: Mass spectrometry allows for the identification and quantification of acetylated histone peptides. Although highly sensitive, mass spectrometry necessitates specialized expertise and equipment, making it less accessible to many researchers.
Enzyme-Linked Immunosorbent Assay (ELISA) has emerged as a valuable alternative method for studying histone acetylation due to its numerous advantages:
Sensitivity and Specificity: ELISA kits designed to measure specific histone acetylation marks offer high sensitivity and specificity. They can detect low amounts of acetylated histones, enabling the analysis of limited sample quantities.
Simplicity and Speed: ELISA is relatively simple and straightforward, requiring minimal sample preparation and processing time. It is amenable to high-throughput analysis, allowing researchers to study multiple samples simultaneously.
Quantitative Results: ELISA provides quantitative measurements of histone acetylation levels, enabling precise comparisons between samples and accurate assessment of changes in acetylation patterns.
Reduced Sample Requirements: ELISA's minimal sample requirements make it ideal for studies where sample availability is limited, such as clinical specimens or small tissue biopsies.
Cost-Effectiveness: ELISA kits are cost-effective and readily available, reducing the need for expensive equipment and specialized training.
Detecting if histone H3 is acetylated at its lysine residues would leading to a better understanding of epigenetic regulation of gene activation and the development of HAT- and HDAC-targeted drugs. Current advancements, such as the EpiQuik™ Total Histone H3 Acetylation Detection Fast Kit from EpigenTek, offer a swift and efficient means to measure acetylated histone levels using a simple, ELISA-based assay. This ready-to-use kit includes all the essential components required to conveniently perform a successful colorimetric quantification of acetylation in histone extract samples. The detection limit and input requirement are notably low, making this kit a sensitive and affordable choice for histone acetylation studies. More work is still needed to compare its performance against other established techniques in diverse experimental settings.