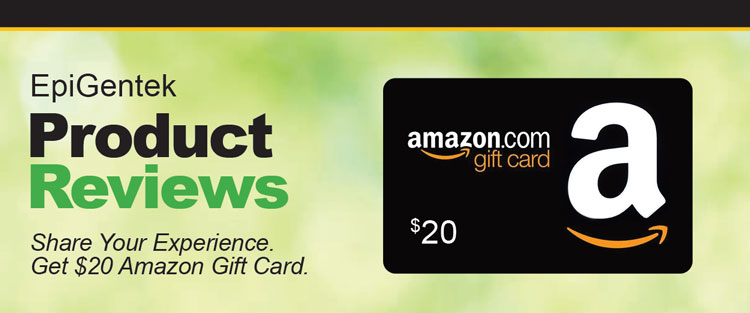 We want to hear from you, and so do other researchers
Review the products you buy from us and recieve Amazon.com® gift cards -- up to $20 for each review. Your feedback will help other researchers make informed decisions about their purchases, plus allow us to further improve our products.

---
To write a review, follow these simple steps:

Step 1. Find Your Product
Click "Write a Review" on the product page, next to its title.

Step 2. Sign-In
Sign-in, or create a new account. If you're already logged in, you may also review products directly from your My Account page.

Step 3. Rate & Review
Tell us about your experience with the product as well as any images that may be of value to other researchers.

Step 4. Recieve Amazon.com® Gift Card
After your review is published, we will email you an Amazon.com® gift card in the qualifying amount. See below:


Amazon.com® gift card amount for each verified* product review

---

$5

For a published review

$10

A product's first review

$5

At least one image included with review
* Has an identifiable EpiGentek order number, PO number, or traceable order by e-mail address.