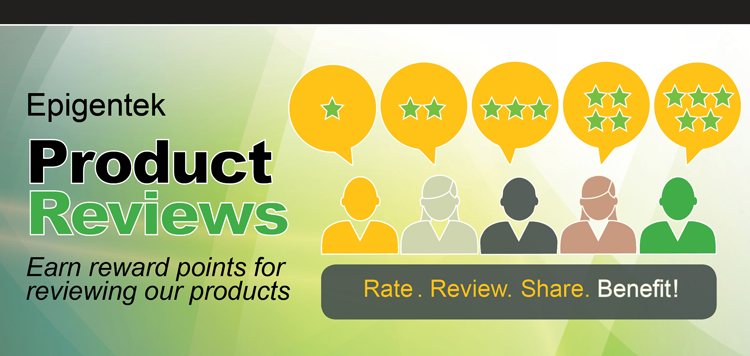 We want to hear from you, and so do other researchers
We invite you to write reviews of the products you buy from us and earn reward points to get more stuff! Your feedback will help other researchers make informed decisions about their purchases, plus enable us to further improve our product development.

---

To write a review, follow these simple steps:

Step 1. Find Your Product
Click "Write a Review" on the product page, next to its title.

Step 2. Sign-In
Sign-in, or create a new account. If you're already logged in, you may also review products directly from your My Account page.

Step 3. Rate & Review
Tell us about your experience with the product as well as any images that may be of value to other researchers.

Step 4. Earn Rewards
Reward points will be added to your account after your review is published. » Learn more about Epigentek's Reward Program.


Reward Points for Verified* Product Reviews

---

+500 points

For a published review

+1000 points

A product's first review

+500 points

At least one image included with review
* Has an identifiable Epigentek order number, PO number, or traceable order by e-mail address.