Cell Structure & Function Antibodies

Cell structure & function antibodies are used for investigating the structure and function of the cell, linked to DNA damage & repair, cell cycle, apoptosis, cellular structure, and trafficking. These antibodies can be used for cell structure research to connect structural features of the cell, such as the cytoskeleton, including microtubules and microfilament, to their function.

Cell cycle antibodies are targeted against proteins involved in the steps of the cell cycle, including the interphase and mitotic phase. Proteins such as histone H3 Ser28 are modified as the cell carries out the cell cycle phases during mitosis. Various antibodies can be used to investigate the progression through the phases of the cell cycle including G1 phase, S-phase, G2 phase and M phase. The main mediators of cell cycle progression include cyclin and cyclin-dependent kinases. For instance, AURKB is a kinase component of the chromosomal passenger complex (CPC), which acts as a key regulator of mitosis (pictured).

Apoptosis, or programmed cell death, can be investigated using antibodies directed against proteins involved in the destruction of cells, such as caspases which are the major regulators of apoptosis. Furthermore, understanding the role of epigenetic in the regulation of apoptosis could help develop epigenetically active therapies for drug-induced apoptosis of cancer cells.

DNA damage and repair antibodies give insight into damage of DNA that disrupts gene expression and the processes involved in mending these damages. The DNA damage response (DDR) pathway allows cells to maintain genomic integrity by recognizing damage and helping with the recruitment and activation of proteins for DNA repair. ATM, ATR, and DNA-PK are kinases involved in the DDR pathway, as well as a few members of the poly (ADP-ribose) polymerase (PARP) family.

Trafficking antibodies are connected to the transport of proteins within the cell. Intracellular trafficking can be investigated with antibodies against certain proteins involved in the exocytic and endocytic pathways, transporting components from the outside to the inside of the cell and from the inside to the outside of the cell, respectively.

What makes buying antibodies from EpiGentek different?
At EpiGentek, we supply a collection of over 20,000 individual high-quality antibodies for our customers to ensure that our research customers find exactly what they need for their studies. In addition, we offer a variety of other benefits to help our customers in terms of affordability, convenience, and reliability. See why working with EpiGentek for your antibodies is the right choice:
No Shipping & Handling Costs: we've waived all shipping and handling fees on our antibodies and antibody panel packs when selecting 2-day shipping (trial sizes not applicable).
100% Application Guarantee: your purchased antibodies are covered for 6-months past the date of purchase.
Multiple Conjugates: we carry biotin, FITC and HRP conjugates for nearly all targets.
Trial Sizes Available: 10 & 20 µg options available on over 5,000 antibodies in our catalog.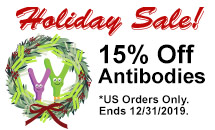 Cell Cycle Antibodies
The cell cycle constitutes a series of stages that allow a cell to double its cellular components and divide into two daughter cells. Cell cycle and division are crucial for development of a multicellular organism, as well as for cell-renewal in regenerating tissue. Actively proliferating cells undergo four phases during cell division or mitosis.
DNA Damage & Repair Antibodies
Cells undergo DNA damage constantly from exogenous and endogenous sources. Some of these sources include UV-light, ionizing radiation, alkylating agents and other environmental DNA damaging agents, as well as other sources derived spontaneously from cellular metabolism, such as reactive oxygen species. DNA damaging agents can cause a number of DNA lesions, including adducts, apurinic/apyrimidinic sites (AP sites), single-strand and double-strand DNA breaks. Left unrepaired, these DNA lesions could result in mutations, senescence, or induction of cell death which could lead to the development of neurodegeneration, cancer and other diseases.
Apoptosis & Cell Death Antibodies
Programmed cell death is important for normal physiological functioning, it is crucial in wound healing, development, differentiation and immune responses. However, unregulated cell death can lead to development of several diseases. Several forms of cell death include apoptosis, necrosis, and autophagy, which differ mainly in the cells morphological changes that accompany them, as well as the proteins involved in their activation and execution.
Cellular Structure Antibodies
Structural proteins are involved in maintenance of cellular structures and are crucial in cell polarity, cell to cell communication, movement and migration, cell division and other functions requiring cell malleability. Structural differences among cell types are crucial for cells to perform their specialized functional roles. Structural proteins are fibrous proteins, and include keratins, actin, collagens, and tubulins among others.
Trafficking Antibodies
Cells must transport proteins from the endoplasmic reticulum in the cytoplasm, where they are mostly synthesized, to the nucleus, plasma membrane or other sites where they will ultimately perform their functions, and they should recycle back membrane and extracellular components. Intracellular trafficking involves two major pathways, the exocytic pathway, which transports components from the inside to the outside of the cell, and the endocytic pathway which transports material from the outside to the inside of the cell. Integral membrane proteins and secreted proteins are transported to the cell surface via the exocytic pathway, in which they are carried from the endoplasmic reticulum, to the Golgi apparatus and through secretory vesicles which then fuse with the plasma membrane. On the other hand, some cell surface receptors, after activation and signaling, undergo endocytosis and transport to lysosomes for their degradation, in a series of vesicular bodies called endosomes.

| | | | | |
| --- | --- | --- | --- | --- |
| Image | Description | Cat. No. | Size | Price |