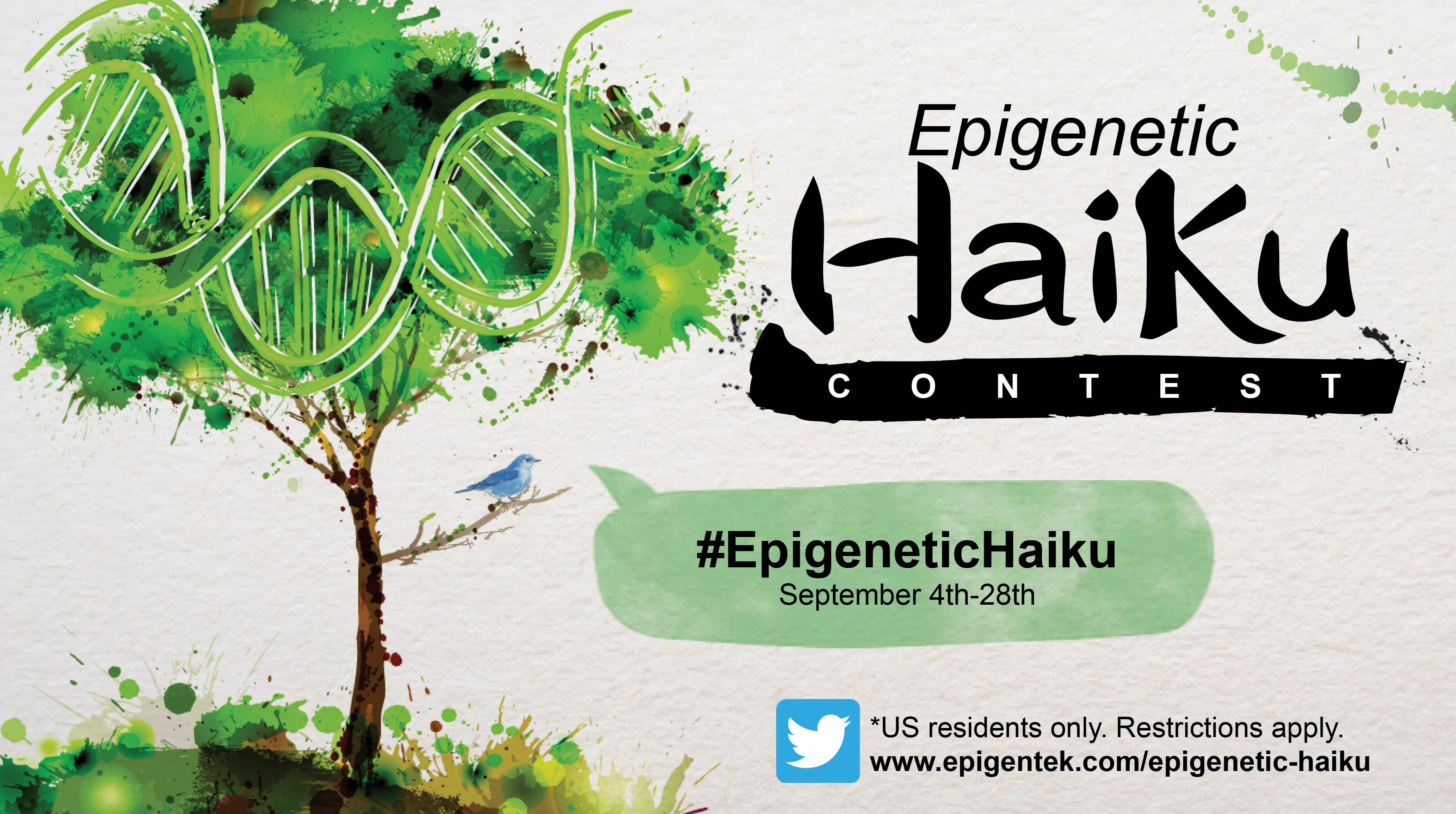 Write an epigenetic haiku for a $10 coupon code off EpiGentek products and the chance to be one of three Grand Prize winners!
Craft your own epigenetic-related haiku in a 3 line format of 5, 7, and 5 syllables and tweet it @Epigentek with #EpigeneticHaiku.

Haiku is a well-known form of poetry that was first made popular in Japan and is now appreciated around the world. Although these short poems traditionally focus on nature, the haikus for this contest focus on epigenetics!



Epigenetic Haiku. /ˌepəjəˈnedikˈ/ /hīˌko͞o/ (noun).
A short poem of seventeen syllables, in three lines of five, seven, and five syllables, evoking images, concepts, or ideas of epigenetics.
---
How to Enter

Tweet* your 5-7-5 format epigenetic haiku at @EpiGentek and include #EpigeneticHaiku


*Your Twitter profile must be public for your entry to be eligible
Begins: Tuesday, September 4th, 2018 @ 12:00 AM ET
Ends: Friday, September 28th, 2018 @ 11:59 PM ET
---

---
Example Haikus
You'll need skill and faith,
As conversion will be harsh.
Bisulfite treatment.
Gene expression changed
Underlying gene sequence
Will remain the same
Twins have the same genes
But are different because
Epigenetics
Heritable Change
Mom and Dad, Environment
Phenotype Expressed
Chromatin complex
Unravelling, untwisting
As histone marks fade
Global DNA
Can be measured in a flash
ELISA technique
---
Important details:
One $10 EpiGentek coupon code will be given per individual. Multiple haikus may be entered for a chance to win a Grand Prize, but only one coupon code can be awarded per person. Haikus cannot be duplicated. By entering in this contest you agree to all terms and conditions.
---
*Official Rules, Terms & Conditions
This contest is open to legal residents of the United States who are 18 years or older. Contest entry period is from Tuesday, September 4th, 2018 12 AM ET and ends Friday, September 28th, 2018 11:59 PM ET. All entries grant EpiGentek free use of contest poems, names, and comments for future digital and printed marketing material. By participating in this contest you agree to receive e-mail marketing communication from EpiGentek, sent to the provided e-mail address. Entries are based on the following criteria: 1) Entrant must tweet the haiku at @EpiGentek and, 2) Entrant must include the hashtag #EpigeneticHaiku. All eligible entries will receive a $10 coupon code to be used on any EpiGentek products sent via e-mail within 1-2 weeks following contest entry to an e-mail address provided by the entrant via Twitter direct message. Twitter profiles must be public in order to be eligible for the contest.

Three Grand Prize winners will be determined by employees of EpiGentek based on the most creative entry. Three Grand Prize winners will be announced on EpiGentek social media accounts no later than October 8th, 2018. Grand Prize items will be mailed within 1-2 weeks to the mailing address provided by the entrant. Prizes cannot be exchanged for cash.

Except as required by law, Amazon.com Gift Cards ("GCs") cannot be transferred for value or redeemed for cash. GCs may be used only for purchases of eligible goods on Amazon.com or certain of its affiliated websites. For complete terms and conditions, see www.amazon.com/gc-legal. GCs are issued by ACI Gift Cards, Inc., a Washington corporation. ©, ®, ™ Amazon.com Inc. and/or its affiliates, 2012. No expiration date or service fees.

Items provided by third companies do not imply endorsement of or by EpiGentek. This promotion is in no way sponsored, endorsed or administered by, or associated with, Facebook or Twitter. Participants, by entering the contest, fully release Facebook from any liability. Participants understand that they are providing their information to the owner of the EpiGentek Facebook page and not to Facebook.


Quick Entry

Click to tweet your haiku!
Giveaway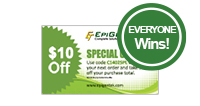 Every eligible entrant automatically wins $10 off EpiGentek products!
Grand Prize
Three individuals who post the most creative #EpigeneticHaiku will win a $30 Amazon.com Gift Card and an EpiGentek swag bag, which includes an "I ❤ Epigenetics" bag, a lunch cooler, and other goodies.