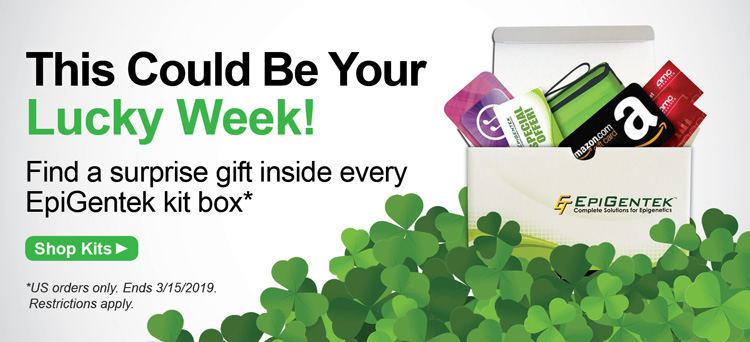 St. Patrick's Week Special!
EpiGentek's lucky week is back! Get a surprise gift* to enjoy with every research kit purchased March 11th through March 15th.

Each kit comes with a special promo code that can be used to redeem great items, such as movie tickets, cooler bags, gift cards, and more.
---
Redeem Your Gift In 3 Easy Steps...

Step 1:


Purchase an EpiGentek kit from 3/11/2019 through 3/15/2019.
Step 2:


Look under the kit's lid for a special promo code.
Step 3:


Enter the code in the form to the right of this page and follow the instructions. Codes are valid through 4/30/2019.
---
*Promotion is for research kits purchased between 9:30am ET 03/11/2019 and 11:59pm ET 03/15/2019. Valid only on kits that have physical box packaging. Promo codes are not transferable and must be redeemed online before April 30, 2019. US orders only. Void where prohibited. Customer is responsible for adhering to his or her company's or institution's gift policies for compliance. Actual retail value (ARV) may vary depending on the item. ARV will be indicated directly on the item upon delivery or may be one of the following items: (a) one $5 Amazon.com® gift card* ($5.00 ARV); (b) one $10 iTunes® gift card ($10.00 ARV); (c) one EpiGentek cooler bag ($10.00 ARV); (d) one EpiGentek "swag pack" filled with various items ($20.00 ARV); (e) one AMC® movie ticket ($12.00 ARV). Gifts will be either physically or electronically mailed to the purchaser address after the promo code and required information is entered online properly. Please allow up to 4-8 weeks for delivery of gift items. Order invoice must be paid in full prior to release of gift items. Promotion not valid for or through resellers, distributors, or any other third party companies.

Amazon.com®,AMC®, and iTunes® are not sponsors of this promotion. *Except as required by law, Amazon.com Gift Cards ("GCs") cannot be transferred for value or redeemed for cash. GCs may be used only for purchases of eligible goods on Amazon.com or certain of its affiliated websites. For complete terms and conditions, see www.amazon.com/gc-legal. GCs are issued by ACI Gift Cards, Inc., a Washington corporation. ©, ®, ™ Amazon.com Inc. and/or its affiliates, 2019. No expiration date or service fees.

For more information on AMC® movie tickets, please see terms & conditions. For more information on iTunes® gift cards, please see legal.