Histone Modification Antibodies
Histone modification antibodies are used to investigate epigenetic modifications to histones such as acetylation, methylation, and phosphorylation. Histone methylation is associated with transcriptional repression or activation via the transfer of methyl groups to lysine or arginine residues of histone proteins and is crucial to studying epigenetic gene regulation with the use of histone methylation antibodies. Histone methyltransferases (HMTs) are responsible for catalyzing this process. Similarly, histone acetylation antibodies can be used to study chromatin remodeling and epigenetic gene regulation that occurs as a result of histone acetylation. This histone modification is defined as the addition of an acetyl group to lysine residues of histone proteins by enzymes known as histone acetyltransferases (HATs), and is associated with gene activation and expression.

What makes buying antibodies from EpiGentek different?
At EpiGentek, we supply a collection of over 20,000 individual high-quality antibodies for our customers to ensure that our research customers find exactly what they need for their studies. In addition, we offer a variety of other benefits to help our customers in terms of affordability, convenience, and reliability. See why working with EpiGentek for your antibodies is the right choice:
No Shipping & Handling Costs: we've waived all shipping and handling fees on our antibodies and antibody panel packs when selecting 2-day shipping (trial sizes not applicable).
100% Application Guarantee: your purchased antibodies are covered for 6-months past the date of purchase.
Multiple Conjugates: we carry biotin, FITC and HRP conjugates for nearly all targets.
Trial Sizes Available: 10 & 20 µg options available on over 5,000 antibodies in our catalog.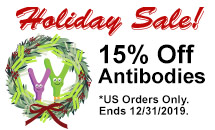 Histone Methylation (Lysine) Antibodies
Histone lysine methylation is a well-established transcriptional mechanism for regulating gene expression in eukaryotic cells. Histone N-terminal tails are susceptible to post-translational modifications (PTMs) and can influence many biological processes including transcription, replication, and chromosome maintenance. Methylation of lysine residues within histones is tightly regulated by methyltransferases (KMTs) and demethylases (KDMs) to preserve cell fate and genomic stability.
Histone Methylation (Arginine) Antibodies
Arginine methylation is a broadly expressed post-translational modification that occurs on both nuclear and cytoplasmic proteins. It is especially profuse on proteins that can shuttle continuously between the nucleus and the cytoplasm. The family of protein arginine methyltransferases (PRMTs) catalyzes methylation reactions, including target histones. Histone arginine methylation, which transpires on the tails of histone, can encourage or prevent the docking of key transcriptional effector molecules, thus making it a key contributor of the histone code.
Other Histone Methylation Antibodies
Histone methylation occurs with the addition of a methyl group to the amino-terminal tails of histone proteins. Depending on how many methyl groups are added and which amino acid residue is modified, histone methylation can have a positive or negative effect on gene transcription. Histone methyltransferases (HMTs) are enzymes that catalyze the addition of methyl groups to histone proteins, while histone demethylases (HDMs) remove these methyl groups. This process is important for regulating gene expression which allows different cells to express different genes.
Histone Acetylation Antibodies
Histone acetylation is defined by the addition of an acetyl functional group to the lysine residues of the N-terminal tail and its status can be studied with the use of histone acetylation antibodies. Evidence shows histone acetylation is highly involved in gene regulation and histone acetyltransferase (HAT) and histone deacetylase (HDAC) activity affect the availability of chromatin to gene transcription.
Histone Deacetylation Antibodies
Histone deacetylation, the process by which histone deacetylase (HDAC) catalyzes the removal of the acetyl functional group from histones, can be investigated using HDAC antibodies. Decreased levels of acetylation as a result of HDAC activity has been linked to repression of gene expression due to the condensed state of chromatin, referred to as heterochromatin.
Other Histone Acetylation Antibodies
The process of histone acetylation at lysine residues by histone acetyltransferase (HAT) is an important epigenetic marker and can be measured with the use of histone lysine acetylation antibodies. Acetylation of histones reduces the interaction of histone N termini with the phosphate groups of DNA, thereby loosening chromatin and opening it up for increased gene transcription. Acetylation of H3K14, for instance, has been linked to transcriptional activation and specifically DNA repair.
Histone Phosphorylation Antibodies
Antibodies that detect phosphorylated target proteins help researchers to understand the role phosphorylation plays in cellular processes. Phosphorylation can turn on and off numerous protein enzymes by adding a phosphate group to the protein, thereby affecting their activity and function.
Ubiquitination & SUMOylation Antibodies
Ubiquitination is the process by which ubiquitin is attached to a substrate protein after it has been made. It has been known to affect proteins by altering cellular location, impacting protein activity, and adjusting protein-protein interactions. Research shows that sumoylation regulates protein-protein interactions and subcellular targeting and is involved in numerous processes such as nuclear-cytosolic transport, apoptosis, transcriptional regulation, response to stress, protein stability, and progression through the cell cycle. Ubiquitination antibodies and sumoylation antibodies are a useful tool to researchers investigating the control mechanisms associated with numerous nuclear proteins.
Other Histone Antibodies
Other histone antibodies can be used to study the core nucleosomal histones, the histones regularly associated with DNA in chromatin, as well as non-canonical histone variants that often can substitute for the core histones under diverse physiological and environmental conditions. The core nucleosomal histones are mostly incorporated into chromatin during DNA replication, while histone variants can be integrated throughout the cell cycle. Adjoining of these histone variants can alter chromatin structure and affect transcription, DNA replication and other biological processes, and can influence embryonic development and cell fate decisions. Some well-known histone variants include H2A.X, H2A.Z and H3.3.

| | | | | |
| --- | --- | --- | --- | --- |
| Image | Description | Cat. No. | Size | Price |