2010 3.1 You Are What Your Mother Ate, Part I: What is Epigenetics? from Science in the News on Vimeo.

Epigenetics & Applications
Epigenetics is the study of epigenetic inheritance, a set of reversible heritable changes in gene function or other cell phenotype that occur without a change in DNA sequence (genotype). These changes may be induced spontaneously, in response to environmental factors, or in response to the presence of a particular allele, even if it is absent from subsequent generations.

Epigenetics includes the study of effects that are inherited from one cell generation to the next whether these occur in embryonic morphogenesis, regeneration, normal turnover of cells, tumors, cell culture, or the replication of single celled organisms. Recently, there has been increasing interest in the idea that some forms of epigenetic inheritance may be maintained even through the production of germ cells (meiosis), and therefore may endure from one generation to the next in multicellular organisms.

Specific epigenetic processes of interest include paramutation, imprinting (such as mouse H19), gene silencing, X chromosome inactivation, position effect, reprogramming, transvection, maternal effects (paternal effects are rare, since much less non-genomic material is transmitted by sperm), epigenetic carcinogens, many effects of teratogens, regulation of histone modifications and heterochromatin, and technical limitations affecting parthenogenesis and cloning.

Many types of epigenetic processes have been identified--they include methylation, acetylation, phosphorylation, ubiquitylation, and sumolyation. Other epigenetic mechanisms and considerations are likely to surface as work proceeds. Epigenetic processes are natural and essential to many organism functions, but if they occur improperly, there can be major adverse health and behavioral effects.

Perhaps the best known epigenetic process, in part because it has been easiest to study with existing technology, is DNA methylation. This is the addition or removal of a methyl group (CH3), predominantly where cytosine bases occur consecutively. DNA methylation was first confirmed to occur in human cancer in 1983, and has since been observed in many other illnesses and health conditions.

Another significant epigenetic process is chromatin modification. Chromatin is the complex of proteins (histones) and DNA that is tightly bundled to fit into the nucleus. The complex can be modified by substances such as acetyl groups (the process called acetylation), methyl groups ( histone methylation), or enzymes, and some forms of RNA such as microRNAs and small interfering RNAs. This modification alters chromatin structure to influence gene expression. In general, tightly folded chromatin tends to be shut down, or not expressed, while more open chromatin is functional, or expressed.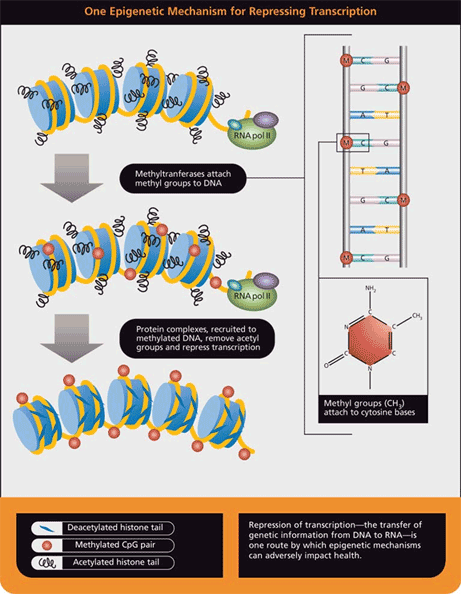 Bob Weinhold: Environmental Health Perspectives Volume 114: A160-A-167, 2006

Epigenetic Diseases
Cancer. Accumulation of genetic and epigenetic errors transforms a normal cell into an invasive or metastatic tumor cell. Altered DNA methylation patterns cause abnormal expression of cancer-associated genes. DNA hypomethylation activates oncogenes and initiates chromosome instability, whereas DNA hypermethylation initiates silencing of tumor suppressor genes. The epigenetic changes can be used as biomarkers for the molecular diagnosis of early cancer.

Imprint Disorders. Imprint disorders such as Prader-Willi and Angelman syndromes are caused by genetic and epigenetic errors to the same part of chromosome 15; errors inherited from the father result in Prader-Willi syndrome, and those inherited from the mother, Angelman syndrome.

Immunity & Related Disorders. There are several evidence showed that loss of epigenetic control over this complex process contributes to autoimmune disease. Abnormal DNA methylation has been observed in patients with lupus whose T cells exhibit decreased methyltransferase activity and hypomethylated DNA. Disregulation of this pathway apparently leads to overexpression of methylation-sensitive genes such as the leukocyte function-associated factor (LFA1), which causes lupus-like autoimmunity. Interestingly, LFA1 expression is also required for the development of arthritis, which raises the possibility that altered DNA methylation patterns may contribute to other diseases displaying idiopathic autoimmunity.

Neuropsychiatric Disorders. Epigenetic errors also play a role in the causation of complex adult psychiatric, autistic and neurodegenerative disorders. Several reports have associated schizophrenia and mood disorders with DNA rearrangements that include the DNMT genes. DNMT1 is selectively overexpressed in gamma-aminobutyric acid (GABA)-ergic interneurons of schizophrenic brains, whereas hypermethylation has been shown to repress expression of Reelin (a protein required for normal neurotransmission, memory formation and synaptic plasticity) in brain tissue from patients with schizophrenia and patients with bipolar illness and psychosis. A role for aberrant methylation mediated by folate levels has been suggested as a factor in Alzheimer's disease; also some preliminary evidence supports a model that incorporates both genetic and epigenetic contributions in the causation of autism. Autism has been linked to the region on chromosome 15 that is responsible for Prader-Willi syndrome and Angelman syndrome. Findings at autopsy of brain tissue from patients with autism have revealed deficiency in MECP2 expression that appears to account for reduced expression of several relevant genes.

Pediatric Syndromes. In addition to epigenetic alterations, specific mutations affecting components of the epigenetic pathway have been identified that are responsible for several syndromes: DNMT3B in the ICF (immunodeficiency, centromeric instability and facial anomalies) syndrome, MECP2 in Rett syndrome, ATRX in ATR-X syndrome (a-thalassemia/ mental retardation syndrome, X linked) and DNA repeats in facioscapulohumeral muscular dystrophy. In Rett syndrome, for example, MECP2 encodes a protein that binds to methylated DNA; mutations in this protein cause abnormal gene expression patterns within the first year of life. Girls with Rett syndrome display reduced brain growth, loss of developmental milestones and profound mental disabilities. Similarly, the ATR-X syndrome also includes severe developmental deficiencies due to loss of ATRX, a protein involved in maintaining the condensed, inactive state of DNA. Together, this constellation of clinical pediatric syndromes is associated with alterations in genes and chromosomal regions necessary for proper neurologic and physical development.


---

References
David Rodenhiser and Mellissa Mann: CMAJ o 174: 2006
Wikipedia: Epigenetics
Bob Weinhold: Environmental Health Perspectives Volume 114: A160-A-167, 2006